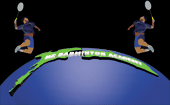 Are you interested in Playing for Waitakere in 2014? Please send an email to Sue Farmer ASAP. Trials are on the 9th of Feb, but you must register first. [email protected]    Trials start run 9am-1pm at the Waitakere Association Hall in Royal Rd. Any queries please email Sue or ring Ritchie 0210426150.

Titirangi Badminton Club starts 4.30-6.30pm on Tues 4th of Feb.  28 Withers rd, Glen Eden.

Henderson Club starts on Wed  5th of Feb 5-7pm at the Waitakere Association Hall 155 Royal Rd.

Kumeu Junior Club starts up Mon 10th Feb 4pm-5.30pm for newbies & participation players. 5.30-7pm will be for competitive players.

Sun morning Skills & Development Training                10-11am 6-8 yr olds

                                                                                                11-1pm 9-13 yr olds

                                                                                                1-3pm 13-17 yr olds

Regular Coaching Workshops (for people who are interested in giving back to the sport through coaching, even if you are just starting out) will start up in Feb.  We train our players regularly every week, so why not coaches? If you are interested let me know. This will likely be either on a Fri night 6-7pm or on a Sun Evening.

Junior Leadership Programme.

Applications are open for our 2014 Junior Leadership Programme. 10 Applicants will be trained in the various aspects of badminton management and with strong mentorship be given areas of responsibility which will look good on any C.V

Applications close on the 28th Feb. Email me for an expression of interest form. Suggested age is between 14-24

WANTED: We are all busier than ever before. But there is something incredibly rewarding about working with kids/youth. If you are keen to be a part of our team even it is only for an hour a week please drop me an email. Areas of current need:

Marketing , fundraising, Coaching, tournament help, helping out at clubs.

Our New Pro shop is opening in the Waitakere Badminton Centre in Feb. New stock will be arriving over the course of Feb and March so be sure to keep an eye out.
January 30th, 2014 by NZBA
Category: General News