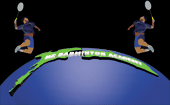 PLAYING OPPORTUNITIES
·        Holiday Programme
We are taking bookings now for the next school holidays to be held at both Waitakere Badminton Centre in Royal Rd provided we get enough numbers interested. This will be held Mon-Fri 9-1 each day. It is flexible so you can decide how often you want to come and simply pay per day.
·        Interclub
A new participation competition starts up on the Friday 5th of September 5-7pm. Cost is $40. Lasts for 8 weeks. 4 weeks leading up to the school holidays and the other 4 weeks after the holidays.
TRAINING OPPORTUNITIES
·        Litteez Squad
Our 6-8 year olds squad is running on Sun 10-11am $10 per session.
·        Group Coaching to improve your skills Sun 11-1pm. $20 per session.
COACHING OPPORTUNITIES
The next workshop will be a 4 part course designed to arm you to become an effective assistant club coach. This will be held on a Sat 3-5pm Starting on the 13th of September running 4 consecutive weeks.  Bookings are essential at [email protected]
BARGAINS
We have a whole new range of clothing on special at the Pro shop. New Victor Gear that was up to $65 is now only $99 for two items. You can mix and match any two items for that price.
We have a mix and match special on for the month of September. Any two advertised items for $198. Choose from any racket bag in store (values up to $135) any $150 badminton Racket and any pair of shoes up to the value of $145, and any two victor shirts. 
VOLUNTEERS
Thank you to the volunteers who have come forward to offer their time and services. We are still looking for plenty of help in small ways from different people so if you are keen send me an email
August 27th, 2014 by ritchie
Category: General News