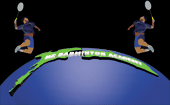 We are focusing our efforts into the Waitakere Primary Schools over the next 6-12 Months. We are going into schools to teach the Badminton World Federation Programme called 'Shuttle Time" .The project entails upskilling the teachers to understand how to use the freely available online resources provided by the BWF, through direct workshops and then mentoring over 6 sessions involving the children. We provide all the equipment including rackets, shuttles and portable nets. We send in exceptionally enthusiastic highly experienced coaches to lead the sessions to maximise the interest in the children. 
After we have completed our initial taster with the children  we then leave the teachers to continue the other 16 lessons, leaving behind the full use of the rackets and nets and shuttles. Thus we need a full set of equipment for each school which is given to the school on a free lease basis as long as they continue year round with badminton as an option for their children.
So dust off your marketing streak and help us get people who may not have the time to get involved but may instead be willing to donate. We need a minimum of 3 donees to get the ball rolling so we are accepted on the website and can then go live in the public arena. So empty those pockets of coins, break open that piggy bank and dust off your cheque book. Help us to make a difference through Badminton. 
http://www.givealittle.co.nz/cause/badminton4kids
p.s Thank you to those of you who have signed on to support us with your time on Buzzthepeople. Keep up the great work....spread the word!!!
May 22nd, 2014 by ritchie
Category: General News